Landmark Library Builds Community
Image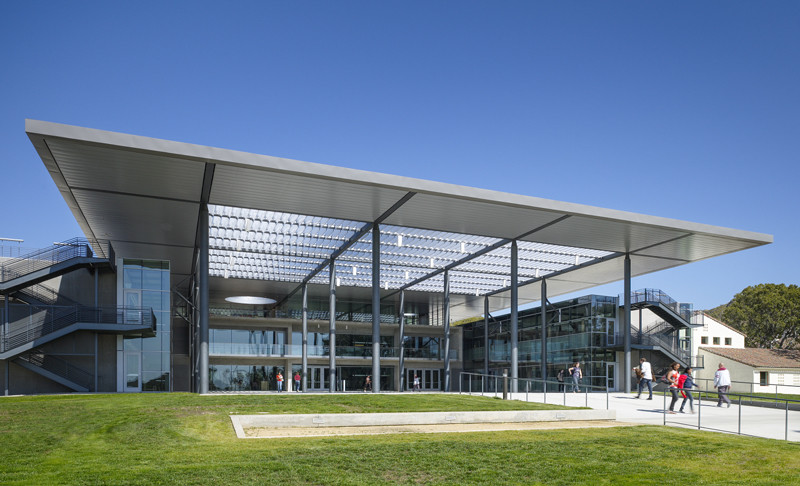 The John Spoor Broome Library, completed in 2008, is the centerpiece and intellectual heart of the California State University Channel Islands campus located in Camarillo, Calif.
Designed by renowned architect Lord Norman Foster, it provides traditional library services along with facilities for exhibitions, seminars, meetings, socializing, and events that enhance the University's unique interdisciplinary curriculum.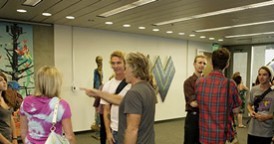 From the outset, the library planning team knew that an ever-changing array of art and visual displays would be a critical element in making the library a dynamic and attractive campus resource. The modern atrium's soaring walls, 25 feet high by 45 wide, are ideal for dramatic, large-scale showings, while long corridors and function rooms can host dozens of presentations each year, including student work, historical materials, faculty research, and special events.
"Nails in the wall were not an option," said Melissa VandeBurgt, Visual Resources Specialist. "We needed something that could be maneuvered and adjusted easily, and the Gallery System did that for us."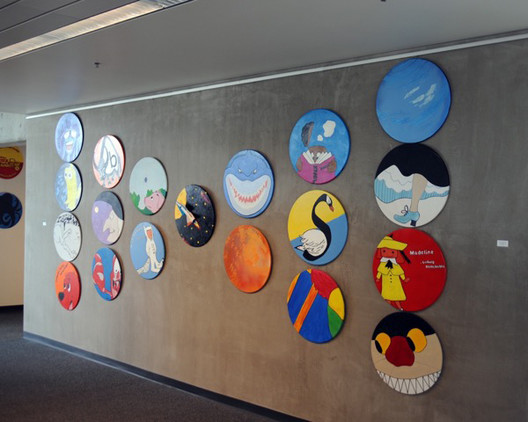 With over 1000 feet of installed Gallery System hanging rail, along with a large supply of cable hangers and self-adjusting hooks, VandeBurgt and her colleagues are able to constantly change and update the library's displays with minimal labor. Even better, when a faculty member or student group has an exhibit to put up, they can do it themselves, without having to call on library personnel or maintenance workers.
From 25-foot vellum prints by the University's landscape architect, to Middle Eastern artifacts that illustrated a panel discussion, to a set of 78 colorful plywood discs with images from children's literature, the Gallery System has handled expected and unexpected tasks – and demand for the library's display facilities is increasing.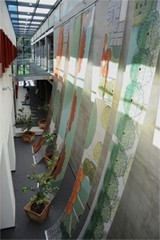 "We get requests from all over campus," noted Amy Wallace, dean of the library. "The flexibility of what can go into the different areas is wonderful. We can do large pieces, small pieces; people are amazed, especially when the student shows are going on, at everything we can display. This spring the Art Program hung 175 student pieces, and displayed dozens of pieces on the library's concrete buffer zone, pedestals, and exhibit cases.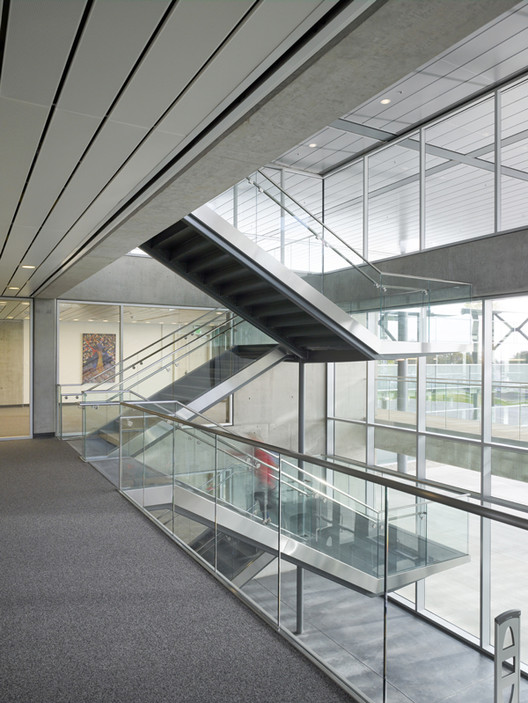 "We can even use the walls as additional storage space. For example, we have a collection of large Mission paintings, which can be hung when space is tight in special collections, but taken down very easily for special events."
Of course, at the Broome Library or any facility, functionality is not enough. "We looked at several different systems, and the Gallery System was better-looking and more economical," notes former library dean Paul Adalian. "It's smooth and unobtrusive, with the opening underneath where it's not visible."
The Broome Library is itself a work of art, and its team of professionals is making it an innovative center of intellectual interaction. Gallery System is proud that its equipment is part of this effort.