Place Your Order: Clearline Picture Rail Hangers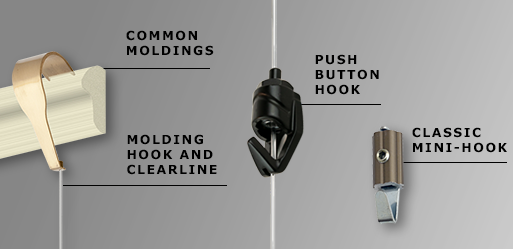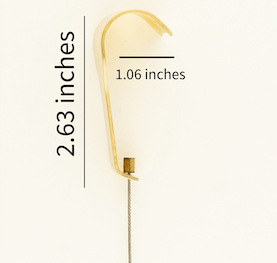 Rooms already equipped with picture rails can now have the all the ease and convenience of a Gallery System Clearline art hanging system.
Choose solid brass or stainless steel picture rail molding hooks with 6.5 feet of Clearline, and Pushbutton Hooks for instant tool-free adjustment or economical Classic Mini-Hooks for highest hanging capacity (adjust with included wrench).
Already have your own molding hooks? Add our looped cable hangers and hang and adjust your art instantly. 
Want higher weight capacity? See our Steel Cable Picture Rail Hangers
Need more information before ordering? Learn About Picture Hanging Systems
Hangers
Typical installations require 10 hangers per 20-30 feet of hanging area.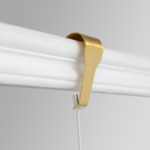 Picture Rail Hangers, Clearline, Brass -- FIVE pack
Package of five elegant brass picture rail molding hooks with tarnish-resistant clear coat and special gripper edge to seat firmly on your existing picture rail or molding. Translucent 6.5-foot Clearline hanging line can be used with Clearline Pushbutton hooks (black color) or Classic Mini-Hooks, sold separately. Capacity 13 pounds per hook with Clearline Pushbutton Hooks, 17 pounds per hook with Classic Mini-Hooks.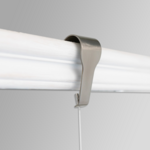 Picture Rail Hangers, Clearline, Stainless -- FIVE pack
As above, in Stainless Steel
Hooks
Hooks are sold in packs of 10. Typical installations require one pack per 20-30 feet of hanging area, or more if hanging multiple works on single hangers (i.e., in vertical columns).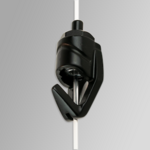 Clearline Pushbutton Hooks (black) - 10 pack
Pushbutton Hooks, pack of 10, for use with Clearline picture hanging systems (GalleryOne or Original Gallery System). Instant, tool-free adjustment: depress button at top of hook, slide to any position, and release button to lock in place. Capacity 13 pounds per hook. Note: Black-color Pushbutton Hooks are for use ONLY with Clearline systems; use chrome-color Pushbutton Hooks with Steel Cable systems.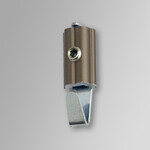 Classic Mini-Hooks, 10-pack
Classic Mini-Hooks, pack of 10, for use with GalleryOne Steel Cable and Clear Tape art hanging systems, and all Clearline hanging systems. An economical choice with robust performance; adjust easily using the simple wrench provided. Capacity 30 pounds per hook on Steel Cable systems, 15 pounds on Clear Tape, 17 pounds on Clearline.
Accessories
HangRight Clips - pack of 10
A simple, effective way to ensure that pictures don't lean forward — the simple HangRight clip holds the hanging system cable close to the rear of the artwork, keeping it flat to the wall. Easy one-screw installation.