Thinking About an Art-Hanging Project for Your Home or Business? Get our new FREE e-book, Everyone's Guide to Art Hanging, a richly illustrated 50-page collection of professional advice on creating great art displays, whatever your level of experience. Download your complimentary copy here, and start planning your next display!
Saluting the Creative Spirit of the Gallery System Community — We asked our customers and partners to share a glimpse of what they're doing in their studio or art display space, and got some wonderful responses. See them on our new Community Gallery page, and learn how YOU can be featured.  
----------------------------------------------------------------------------------------------------------
Image
Why Use a Picture Hanging System?
Precision:
Art hangs straight and true, right where you want it
Ease of Use:
Change displays quickly — no tools, wall repairs or cleanup needed
Flexibility:
Adjust, rearrange and experiment directly on the wall, until you get the perfect layout
See sample commercial and home/studio installations — learn why users love the aesthetics and economics of Gallery System art hanging systems.
Why Choose Gallery System?
Compact and Discreet:
Keeps the focus on the art
Professional Quality:
Operates smoothly, built to last — used in thousands of galleries, businesses and homes worldwide
Personal Service:
We LIKE talking to our customers, and helping you create better art displays - free samples available
See all our art hanging systems — including versatile Original Gallery System and sleek GalleryOne — or read our Picture Hanging System Buyer's Guide.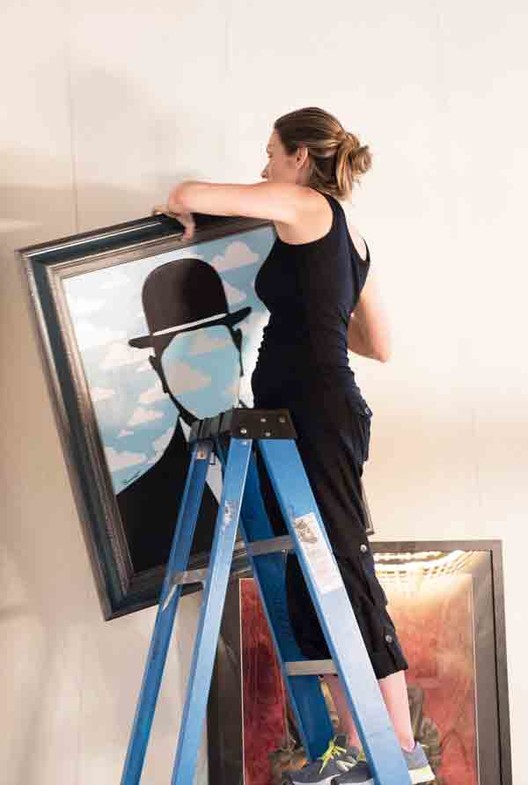 Which Gallery System Is Right for You?
Answer just three questions:
Hanging any Artworks Weighing Over 60 Pounds?
Want the option of Integrated Gallery-Quality Lighting?
Want the option of Concealing the Metal Track with Wood Molding?
If you answered "yes" to any of these, our Original Gallery System is for you — our most-customizable, highest capacity art hanging system.
Otherwise, use the discreet, rugged GalleryOne — our economical performance leader.
Already have picture moldings? Get all the benefits of a hanging system with our Picture Rail Hangers.
All Gallery System Hanging Components Are Backed by our Industry-Best Lifetime Warranty
Get a 60-Second Overview of Gallery System Art Hanging