How to Hang Unframed Art on Picture Hanging Systems
Image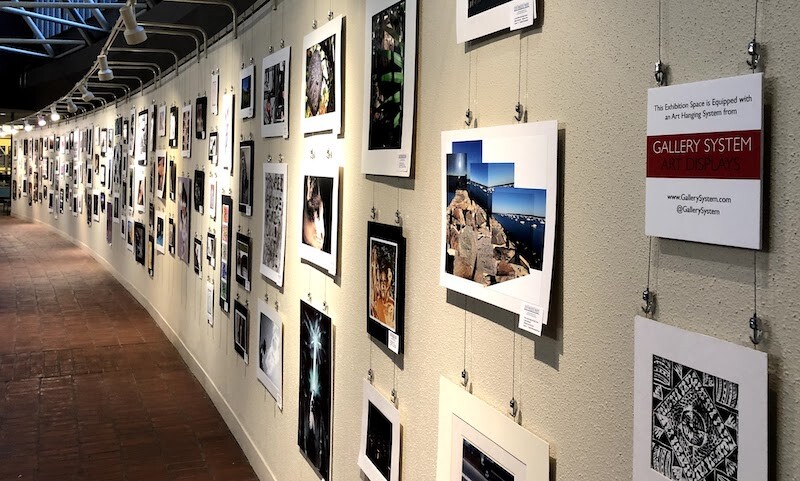 Many Gallery System users — including artists and teachers — need to hang unframed art on a regular basis. We'd like to share some tips from our customer service team on art hanging for works that are matted, wrapped in plastic, or presented in other less-formal ways.
One initial consideration is weight. In most cases unframed works are very lightweight, but there are exceptions. Some artists like to work on medium density fiberboard (MDF), plywood, or other substrates that can be quite dense and require a more substantial approach to art hanging. If you have any concerns, weighing the piece in question is a good idea.
Size also needs to be taken into account. Smaller pieces in a vertical (portrait) format can often be hung from a single attachment point, but horizontal (landscape) works generally benefit from paired hooks and hangers, especially in larger sizes.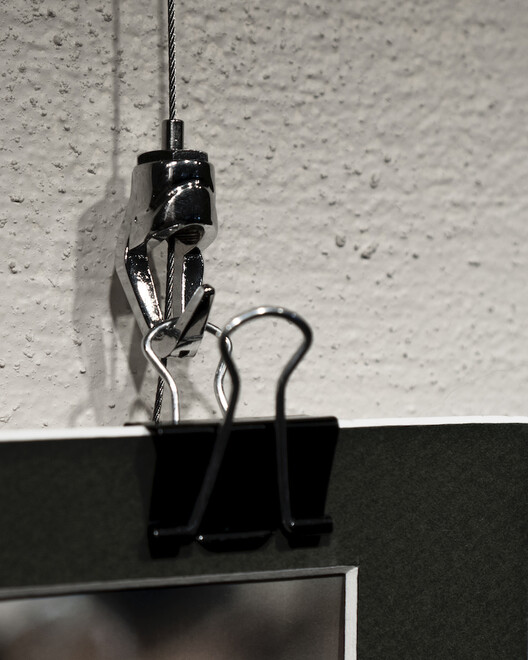 One of the most basic approaches to hanging unframed art is the use of spring-loaded clips. One common type, known as a binder clip or paper clamp, is widely available in many sizes at office-supply stores. These are economical and reusable; one or two medium-sized ones can be quickly attached to the top edge of an unframed piece with the looped-wire handles serving as attachment points for the hanging hook (Figure 1).
Bear in mind, though, that binder clips exert substantial pressure over a small area on whatever is between their jaws. That's exactly what they're designed to do, and in an art hanging situation it can result in permanent impressions being left in mat board or foam core, or on an artwork itself. In some situations, like showing rough sketches or draft works, that's OK, and you can minimize the effect by placing small pieces of cardboard, metal, or wood between the jaw and the work. But be mindful if you're working with more-precious pieces, and run a test on a spare piece of material if you have any concerns.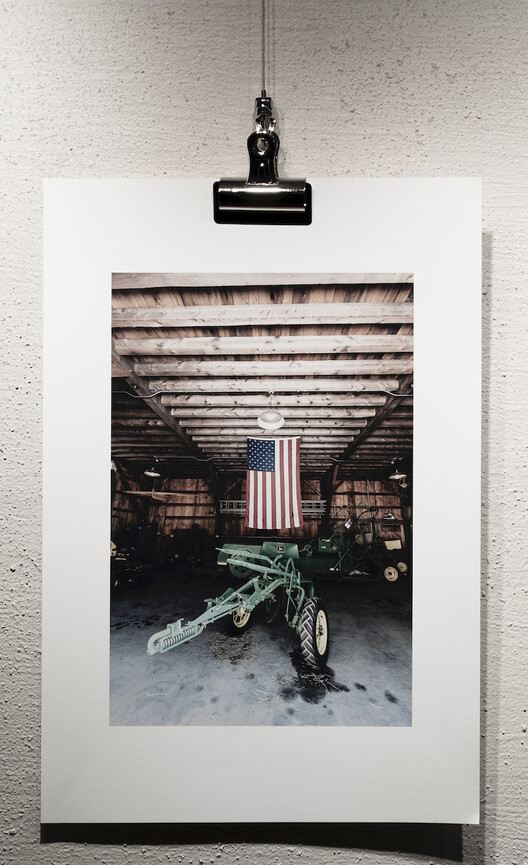 A cousin of the binder clip, the bulldog clip (Figure 2), is commonly found in art studios where it's used in dozens of applications. While designs vary, most bulldog clips have jaws designed to distribute the spring's stress over a much larger area than the binder clips, either through the use of flat metal strips or specially shaped jaws. When choosing a bulldog clip for art hanging, look for ones with the largest area of contact between the jaws and the item being held.
Most bulldog clips have holes in the ends of their handles, which can be conveniently used for hanging, but some are quite small. Gallery System hanging hooks are about ¼ inch (6.4 mm) wide at the bottom, so for best results seek out clips with holes that are 5/16 inch (7.5 mm) or larger.
If you're looking for something more discreet and less utilitarian than clips, there are a couple of other options.
Clear plastic adhesive hanging tabs (Figures 3 & 4), similar to those used for retail display of small packages, have been used successfully for hanging unframed art by a number of Gallery System customers, including the Massachusetts Art Education Association, whose Boston gallery space is shown in the image at the top of the page. These hanging tabs are made in a very wide range of shapes and sizes, with an equally wide range of hanging holes, most of which are amply sized for Gallery System hooks. They're less obtrusive than clips and usually cost only a few pennies each; some are specifically marketed for picture hanging.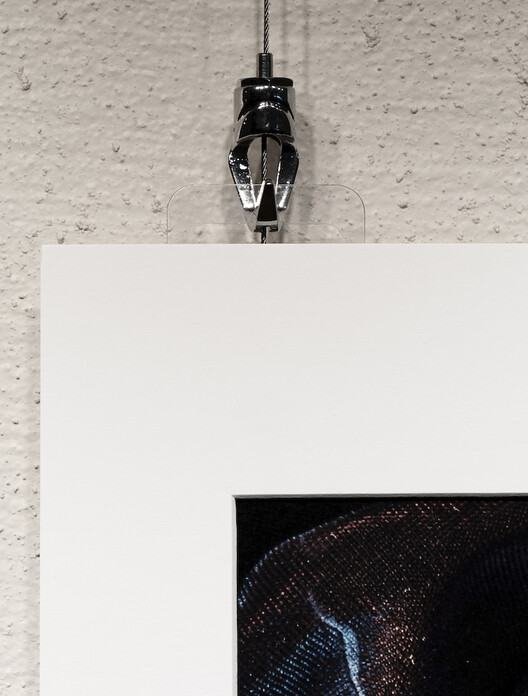 Note that in Figure 3, the tab projects above the top of the mat. While this is quite discreet, you can also fully hide the attachment point by installing the tab as shown in Figure 4 — upside-down, with the flap folded upward. If you're using this approach, it's helpful to choose hang tabs that have a perforated seam.
Of course, direct application of an adhesive to an artwork should be avoided. These types of hangers are best applied to a mat board or foam core backing that's replaceable if needed. And again, be mindful of weight and consider using paired tabs for any but the lightest pieces.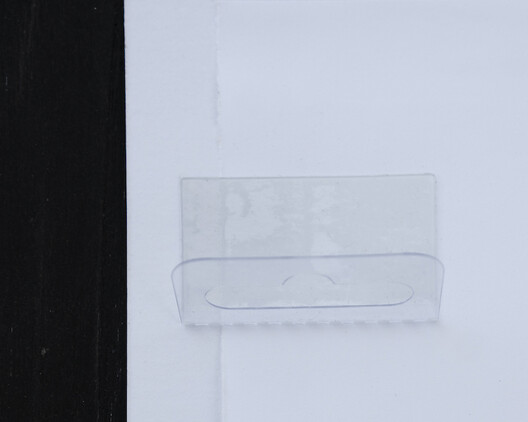 If the work you're hanging is on foam or corrugated board that's at least ¼ inch thick, you could also consider these metal sawtooth hangers. They have sharp metal prongs that press into the back of the work, so again it's important to use them only in art hanging situations where that's not going to damage anything precious. But they do add invisible hanging points and have a specified capacity of 1 pound with one hanger or 2 pounds with two.
Whenever you're attaching hangers to the back of a work, keeping them as close to the top edge as possible (and at least ¾ of the way up) will help prevent the piece from leaning forward when hung (as discussed here).
As always, the Gallery System customer service team is ready to help with any questions you have about art hanging or selecting and using our Original Gallery System and GalleryOne picture hanging systems. Call us at 1-800-460-8703 (or 781-237-8856 from outside the US), or email info@gallerysystem.com.
And if you've got a creative solution for hanging unframed art, let us know – we always like to share updates with the Gallery System community!
Photos by Christine Regan Davi