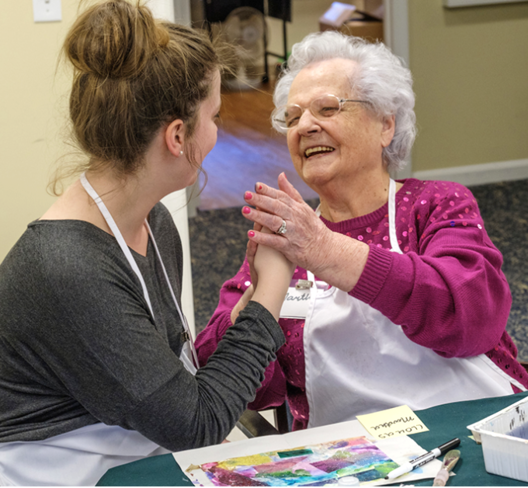 Congratulations to our client, the Jewish Home Family (JHF) organization of Rockleigh, NJ, on the publication of an article about their implementation of the Opening Minds through Art (OMA) program for people with dementia.
A new article in McKnight's Senior Living magazine outlines the encouraging results of a three-year effort by JHF's chief executive, Carol Silver Elliott, and her staff to make OMA's artmaking sessions available to people at their assisted living, adult day and nursing facilities. Resident well-being has benefitted, staffers have gained new perspective, and artworks created by program participants have found new audiences in the community through a show a local café and at an upcoming exhibition at the Belskie Museum.
Art display is an integral part of OMA, and we're proud that the Gallery System equipment at JHF has played a role in honoring the work done by program participants and helping to share their creativity with families, friends, and community members.
You can learn more about the remarkable OMA program, and Gallery System's sponsorship, here. It's a rare and effective way for people living with dementia to express themselves using their creativity rather than memory, and is being implemented at hundreds of care facilities.
We salute Ms. Elliott, OMA creator Dr. Elizabeth Lokon, and everyone involved in this inspiring implementation!