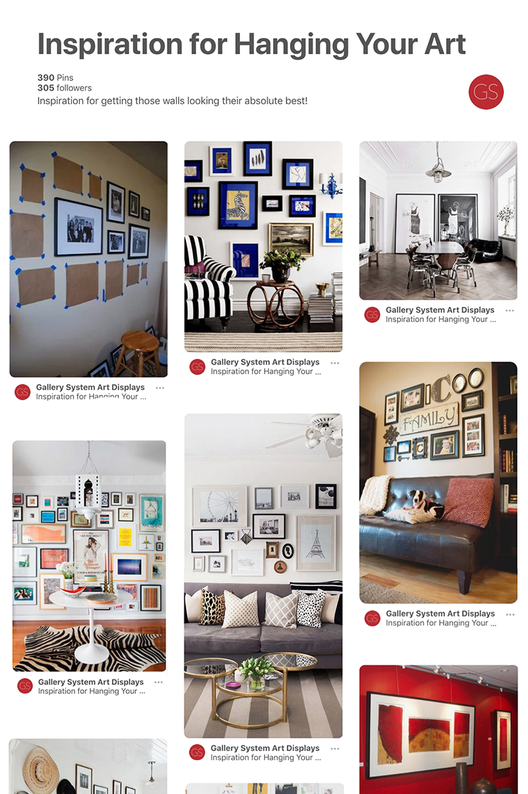 Here at Gallery System, our products are at the heart of what we do, but we also strive to help our customers hang art more effectively, and to share the expressiveness, creativity, and fun of the art world. Today we'd like to invite you to join us in leveraging one of our favorite social media platforms, Pinterest, for that purpose.
Like most businesses, we've cultivated a social media presence in recent years, and Pinterest has been an interesting discovery for us. In addition to being useful for sharing product information and art-hanging tips, we've found that Pinterest's visual orientation appeals to people in the art world, and enables us to curate a rich, display-oriented experience - so much so that it's become our primary social media channel.
If you are new to Pinterest, allow us to explain. Pinterest was once considered purely a social media platform, but over the past 3-4 years it has evolved to also serve as a powerful image-driven search engine. Users create themed "boards" and add separate "pins" to them to curate a visual experience for themselves and their followers, with topics ranging all over the map. Art-oriented posts range from favorite artworks to products, DIY projects, and inspiration (to name just a few of the things you can save for).
Gallery System's Pinterest account is dedicated to creating a visual experience for hanging art and decorating the spaces you spend time in. We seek out and share images that encourage the creation of beautiful spaces - whether in a home, gallery, office, school, or museum.
Here's a sample of our boards and the thoughts behind why we created them.
Inspiration for Hanging Your Art: This board gathers beautiful images of art hanging at its finest. We save pins weekly to this board in order to inspire your own hanging efforts. Whether you're dreaming of what your home or office can look like, seeking out new gallery trends, or looking for solid examples of framed work for your own hanging activities - we've got you covered. Get inspired here.
Color those Walls Beautifully! While art hanging is our game, we know that you can't have beautifully hung art without primed and colored walls. The idea behind this board is to offer our followers dynamic, colorful options for painting their home, office, or any space they spend time in. Follow along here.
Home, Sweet, Home: Many of our systems are installed in homes, and we know artists, collectors, and other art-lovers want their dwellings to provide a thoughtful, intentional visual environment. This board offers motivation to add a splash of color or a cozy nook, or simply a taste of eye candy to dream with. Enter your dream home here.
We haven't just stopped there, either! We've got plenty of other boards and thousands of pins to inspire you with. Looking to get motivated and do something with those old frames you've got lying around? Check out our DIY Framing Board. Or want to see our Gallery System in action? Click through to our Gallery System boards: Examples of Gallery System and Product & Examples of Gallery System.
We're always updating and adding our own original content and gathering beautiful visuals from around Pinterest and beyond to inspire you in your own decorating dreams and realities. We invite you to take a look and follow along - and please let us know what you think with comments and saves!