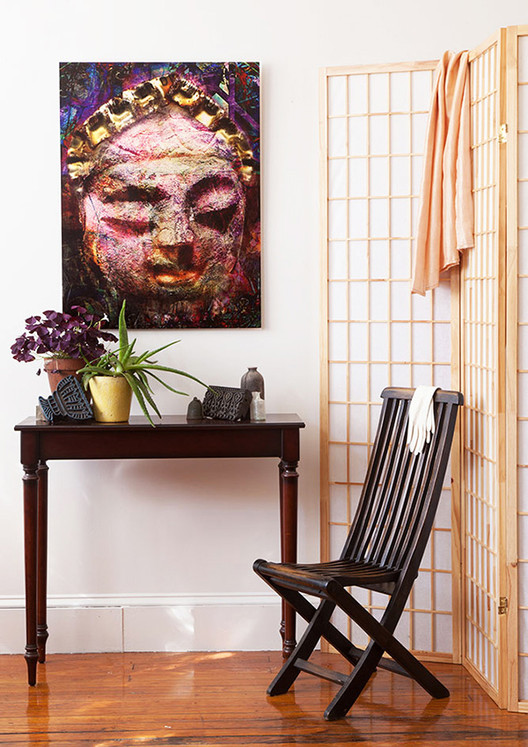 Today's Gallery Spotlight is a little different – it's about a new online gallery that's taking an innovative approach to connecting art lovers with artworks.
Artsy Shark Gallery is a spinoff of ArtsyShark.com, which launched in 2010 and offers business guidance for art professionals while also showing highly curated work by more than 800 artists. We spoke recently with founder Carolyn Edlund, who has an extensive background in and around the art world, about her vision for the new site.
What gave you the idea to start developing an affiliated e-commerce site for art sales?
When we hear from artists about their experience on Artsy Shark, they tell us that they have sold work, landed licensing contracts, and received gallery invitations because of the exposure. The idea behind Artsy Shark Gallery is to take this to a higher level and help a selected group of artists present and sell their work in an online "boutique gallery" format.
There's always a little bit of a matchmaking element to art sales. Tell us about the new site's approach to placing artworks in front of potential buyers, and helping them connect with what's being shown.
We went for a very clean website design, with maximum art and minimum distractions. Each work of art has a very complete description with lots of information so the shopper understands what they are seeing. The shopper can view the art on a wall in a viewer that lets them change rooms and wall colors to really give them an idea of how pieces would look in their own space.
In addition, each artist has their own "Studio Visit" page with an extensive Q&A, information about exhibitions and awards, photos of their studio space or even a video. It's a way of introducing our audience to the artists so they can learn about the inspiration and technique behind the art.
How do you find the artists you're showing? What qualities do you look for in their work that make it especially suitable for the Artsy Shark Gallery setting?
We're fortunate to have a wonderful group of artists who have been featured over the years on Artsy Shark, and we've extended invitations to a number of them to exhibit on Artsy Shark Gallery. While the new gallery site has a strictly invitational process, we do accept submissions to join the Artsy Shark site during our Call for Artist periods.
For the Artsy Shark Gallery collection, we're seeking exceptional artists who have really compelling signature styles.  We believe that's what will cause our audience to fall in love with an artist and want to own their work.
All the work is 2D, but in a variety of mediums: painting, photography, printmaking, collage, digital art and more. Many are originals, but there are also limited and open editions, so we can offer price points ranging from under $100 to over $5,000.
How else are you connecting with your customers?
One of the features of the new site is our Inspired Living section, where we publish interviews with interior designers, conversations with our artists, and "top picks" by gallery staff as well as other articles (including a great piece by Gallery System's Pete Dunn on Art Displays for Hospital Settings!). And every month or so, we invite a guest curator to choose a selection based on a theme that interests them. All this has proven to be very popular with website visitors, and ties in with our mission and our tagline – to provide "Art for Inspired Living."
Want to have your gallery featured in the Gallery System Gallery Spotlight? Send us an email with some background information!