Image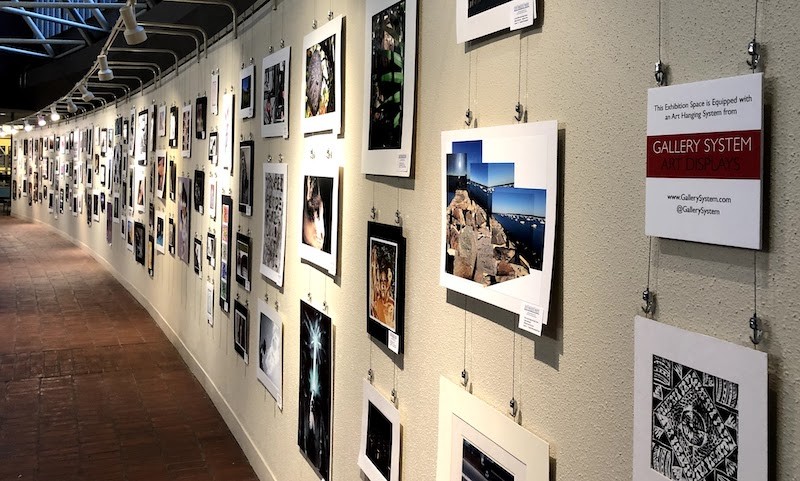 As this year's very unusual back-to-school season begins, we'd like to share some thoughts and suggestions from veteran art educators on exhibiting student artwork, even in challenging times like the current pandemic.
Exhibitions, even small ones, have always been an important and exciting aspect of any art program. They offer a creative challenge to young artists, and an opportunity to connect with families, friends, and the wider community, and these qualities take on extra importance in the COVID-19 era.
Much of this advice comes from a November 2019 presentation by Gallery System's managing director Christine Regan Davi and director of marketing Peter Dunn at the Massachusetts Art Education Association (MAEA) annual conference. You can read a full writeup here, and we're especially grateful to Christine O'Donnell, owner and director of Beacon Gallery, Boston, for her assistance in the project.
Given the importance of exhibits, what display techniques can teachers use to ensure that the needs of both artists and visitors are well-served? And how can those principles be adapted to and leveraged in the current conditions?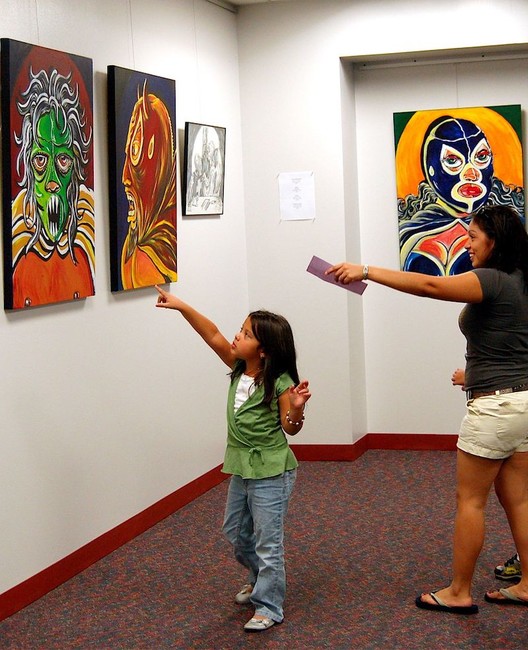 #1 — Start by Exploring the Whole Creative Process
A good starting point in any era, and one that can be effectively handled in a remote-learning environment, is to help students consider and understand the creative process in general, and its importance in communication, expression, and innovation.
Education in art is synergistic with education in other disciplines, including the STEM fields, and this moment when both scientific advancement and basic human needs are top-of-mind issues offers new opportunities. As the 2019 Massachusetts Curriculum Framework for Arts notes, "According to a coalition of researchers, 73 percent of American corporate leaders affirm that creativity is an essential skill for success, but most high school graduates were deficient."
We spoke with Gregory Barry, an artist and art teacher at Oakmont Regional High School, Ashburnham, Mass., who pointed out that while some students are naturally creative, many will be unfamiliar with, and perhaps uncomfortable or nervous about, making and showing their artwork. "Some may know right away what their art is 'about,' but others might need time to think and discuss," explained Barry.
Providing students with artistic confidence and knowledge is empowering to them personally, and also a key step in cultivating creativity, that "essential skill for success."
The preparation process for an exhibition, says Barry, can be a great forum for exploring students' personal "why" for the creative process, beyond the assignment itself. It's a way of thinking in broad terms about the role art plays in an individual's life and in society as well as helping to cultivate comfort with the artistic process of ideation, refinement, and presentation. 
These insights flow directly into the envisioning of exhibitions, including the development of themes, and are a great entry point for involving the students in the curation process.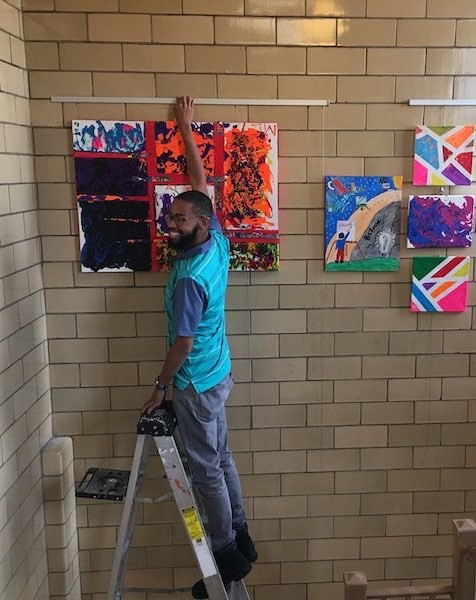 #2 – Adapt the Eternal Search for Venues to a Pandemic
Even in "normal" times, finding exhibition venues and audiences is challenging. Art teacher Ashley Wood, of the Francis W. Parker Charter Essential School in Devens, Mass., points out that "artists have always had to find clever ways of getting their works in front of people, in part by being opportunistic and thinking about ways of taking advantage of places where people are gathering."
This mindset has elements of entrepreneurship, social intelligence, and presentation, and so is helpful in many walks of life. It also emphasizes agility and adaptation to circumstances — essential skills in a pandemic. Wood cultivates it in her classes by encouraging them to think freely about potential venues for display. "This is what real artists do, and you're no less of an artist just because you're a student," says Ashley.
While this would traditionally involve tactics like piggybacking on events like school performances, parents' nights, or sports, it's just as applicable in the COVID-19 era. The MAEA has issued a helpful set of Guidelines for Visual Art Education In Response To The COVID-19 Pandemic; its section on Presenting suggests:
• Utilizing outdoor community spaces, that allow audiences to experience exhibits safely (one example: Wisconsin's Dodge County Arts group, which held a plein air exhibition as its first event since the start of the pandemic)
• Developing or continuing to develop digital art portfolios, digital displays, and virtual exhibitions, that allow collection and sharing of student artworks
• Offering multiple options for students to "share their intentions, artist statements, and reflections (e.g., oral, written, or video artist statements, and digital platforms)."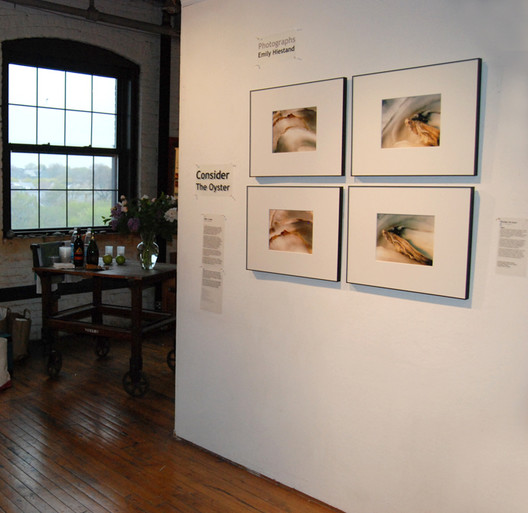 #3 – Always Provide Context
That last item ties in with the need for any exhibition — physical or virtual — to provide context for the works being shown. Laura Howick, Director of Education for the Fitchburg Art Museum, is responsible for the Fitchburg, Mass., museum's Community Gallery, a wonderful resource for schools, arts associations, and other groups, who are given a chance to exhibit in a dedicated space within the museum.
Laura notes that the best community gallery exhibitions follow standard practice of museum shows by offering viewers some background on what they're seeing. She suggests a few helpful questions that are equally applicable to online or virtual displays:
• Did the works being shown come out of a particular lesson, or a particular technique you've been teaching?
• Was there a question you asked the students to consider as they worked on their assignments?
• What criteria were used to select the show pieces?
#4 — Don't Forget the Storytelling Aspect
We'll close with an essential piece of advice from our esteemed collaborator, Christine O'Donnell. As a gallery owner, she's developed a show-planning approach around a simple but effective question: what are you trying to say with your work? Or, what story are you trying to tell?
You can see some of Christine's tips on making the story visible in a physical exhibition in this article, and many of the basic principles can also be adapted to other types of showing.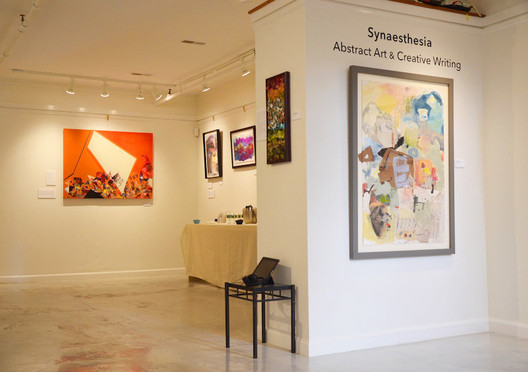 For example, most exhibitions benefit from having a prominent "anchor piece" for the display as a whole: one that serves as the "star of the show." In a gallery or display room, this piece would be placed where it can command attention and send a clear and inviting signal, as in the Beacon Gallery exhibition at left.
In a virtual environment, it can be given pride of place on a web page or slide show, and be presented in an especially large format for maximum impact and high enough resolution that viewers can zoom in for a closer look. Some works may also benefit from being accompanied by close-up detail images that reveal imagery, technique, or other subtle aspects.
Supporting players are also important – pieces that complement or contrast with the "star" and carry the story forward towards the larger statement. Finding ways of seeing the star and the supporting players together, even at reduced size, can help reinforce the unity of a virtual display.
If you're an art educator and have a suggestion or success story to share, we hope you'll let us know by emailing social@gallerysystem.com. We'd love to share them with the Gallery System community, much as we share projects and displays in our Community Gallery — and here's hoping that we'll all soon be hosting and attending in-person exhibitions again!