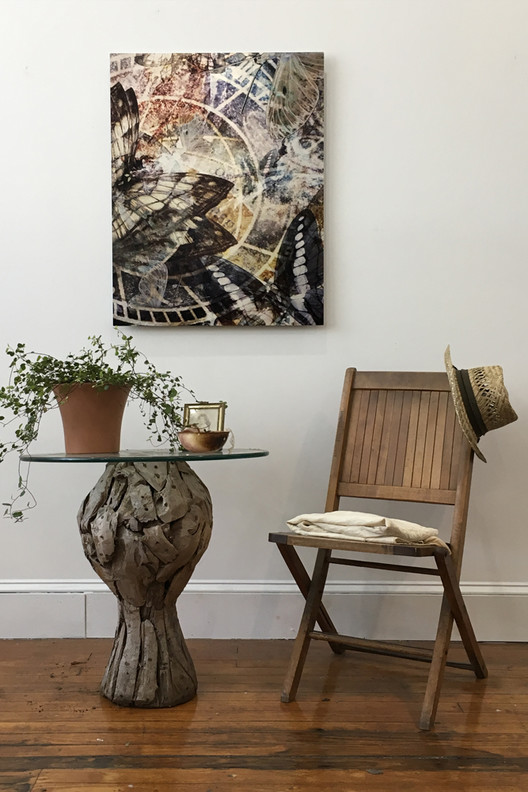 Artists and their representatives often want to reach audiences beyond those who can see their work in person. This frequently involves sharing images of art online, via social media or websites; guest blogger Carolyn Edlund offers suggestions for making these virtual displays strong and compelling, including the use of in-situ images.
When relying on photographs of art for visual communication with an audience, it's wise to make the "customer experience" as good as possible. Excellent photos will help show works to best advantage, providing accurate representation and increased credibility as an artist and a professional, so make sure that lighting, composition, and color reproduction are solid. Ideally, offer the option of viewing high-resolution versions of the images.
To create a viewing experience that can satisfy a potential collector, use multiple types of images that the viewer can rely on. Close-up or detail images are as crucial as photos of entire works – think about how often gallery visitors lean in for a close look. And having in situ shots available can convey additional information that is often essential for a sale.
In situ photos show artwork in an environment where they belong. Is your art perfect for a corporate lobby? A country kitchen? An elegant dining room? When you show your work in a setting, it offers a suggestion to the viewer, along with other visual clues.
Moreover, in situ shots instantly demonstrate the scale of the work in relation to other objects and furnishings. How big is a 24-inch by 36-inch painting? That's not always easy to imagine when looking at an image of the work alone. But when art is shown to scale in a room view, it becomes immediately clear, along with the impact that the work has on a room. Bright bold colors may make your painting a focal point. Show that in a room setting, and your artwork may impress a collector who desires that effect.
Another subtle message can be conveyed through the composition of an in situ image. If you show a diptych, triptych, or other grouping, it could suggest to a shopper that they need to buy more than one work of art to get the look shown in the photo. Your photo can close that sale for you.
One way to create an in situ shot is to photograph works literally hanging on a wall or "staged" in a room (if you or a colleague have some interior design knowledge, this is a great place to apply it). If you have works that are already installed in an office, home or other setting, that's another option, especially if the lighting and setting are good. Alternatively, you can use a photo-editing program to create an image, dropping the art into a stock photo of the room of your choice – but be sure you're preserving the proper scale of the work.
Guest blogger Carolyn Edlund is the founder of ArtsyShark.com, the leading website for art marketing and business strategies, executive director of The Arts Business Institute, a nonprofit organization dedicated to teaching professional development to artists and makers, and an experienced art-business consultant and mentor.