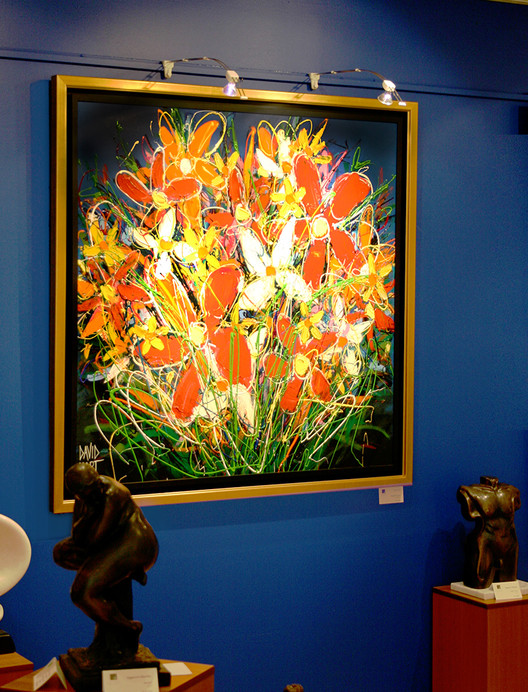 Gallery System Lighting has been chosen for thousands of galleries, homes, and other spaces worldwide, because unlike traditional picture lights, it integrates seamlessly with the wall-mounted tracks of the Original Gallery System. Now, we're unveiling a new affordably priced Power Pack lighting kit that includes everything needed to light paintings, photographs, and other artworks using up to five LED-equipped Light Wands across up to 25 feet of wall track. NOTE: Lighting is compatible only with our Original Gallery System, NOT GalleryOne.
Purchase a Power Pack (regularly $189) plus four Light Wands with art-safe LED bulbs (regularly $65 each) for just $459 including ground shipping in the Continental United States. Get it now!
Don't need art-hanging capabilities? You can still get all the benefits of Gallery System Lighting by combining a Power Pack and Light Wands with Original Gallery System wall track to create a sleek, effective art lighting system. 
Whether you opt for the new Power Pack or one of our Custom Lighting packages (which can handle dozens of Light Wands and art gallery lighting of almost any size), your benefits include:
Instant, tool-free positioning and adjustment of Light Wands — easily direct clear, art-safe light to your desired location, and re-adjust in seconds when your display changes
Specially chosen LED bulbs are ideal for art display — energy-efficient and long-lasting, providing clear, neutral illumination without color distortion (3000K light with a color rendering index [CRI] of 95)
The new Power Pack's compact 12-volt power supply is safe and discreet yet robust: flexible cabling adapts to your installation and accommodates up to five Light Wands (larger installations are easily handled with our Custom Lighting Solutions option)
Installation is straightforward for a do-it-yourselfer or handyperson — only simple household tools are needed, and we provide clear illustrated step-by-step instructions
Unlike other integrated art hanging and lighting products, Gallery System Lighting allows Light Wands to be positioned independently from hangers — you get complete control to optimize both hanging and illumination
Compatible with Original Gallery System wall track — cannot be used with GalleryOne track.
Image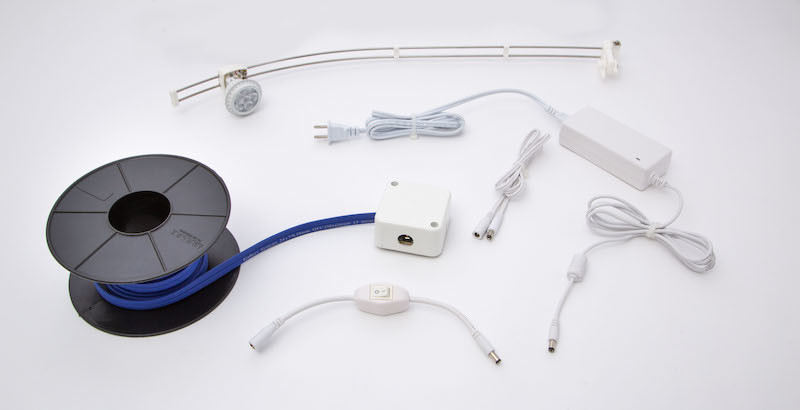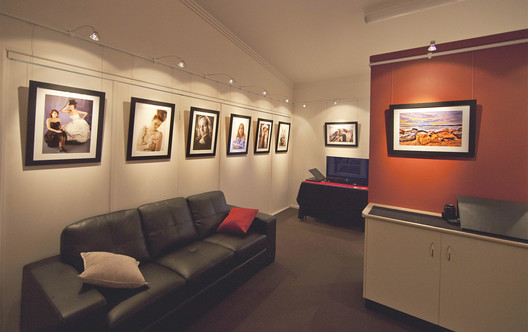 Wondering how to light paintings and other artworks effectively? Get a gallery owner's perspective on how Gallery System Lighting helps create top-quality displays, or review our Buyer's Guide to Art Lighting.
We work every day with artists and art-hanging professionals and understand that artworks must be seen to be appreciated — and that there's an increasing need for simple, economical art lighting alternatives that don't compromise on quality. Our new Power Pack kit features the same pro-grade light wands that have earned great customer reviews for almost two decades, plus a new-generation power supply that helps make integrated lighting more broadly accessible (and easier to buy and install) than ever before.
Learn more about the Power Pack and Light Wands now — or, if your installation will require more than five Light Wands, or cover more than 25 feet of wall track, get the scoop on our Custom Lighting Solutions. Whether you're lighting a single section of wall or an entire gallery, we can help!
Like all our products, Gallery System Lighting is built for the rigors of professional use and backed by our customer satisfaction commitment and strong warranty – two years on all lighting equipment except for bulbs, which carry a one-year warranty. Buy for the long term with confidence: we offer add-on and replacement parts and bulbs for all Gallery System Lighting products.
See all our lighting products now — or, for in-depth details, please review the Lighting section of our FAQ or preview the simple Power Pack installation instructions. 
Power Pack + Four Light Wands Bundle
Just $459 for an Original Gallery System Lighting Kit — Ground Shipping included
Get four sleek Light Wands, each equipped with a specially selected art-safe LED bulb, plus a Power Pack with UL-listed 60-watt power supply and all necessary cabling, all for the low price of $459, including ground shipping in the Continental US.
This lighting package can be easily installed on almost any Original Gallery System art hanging installation — not compatible with our GalleryOne system. Or, add one or more lengths of Original Gallery System wall track (sold separately) to create a sleek, flexible wall-mounted art lighting system for any display space. Act now, and start seeing your displays in a better light.