A "lifestyle laboratory" uses art to build business and social connections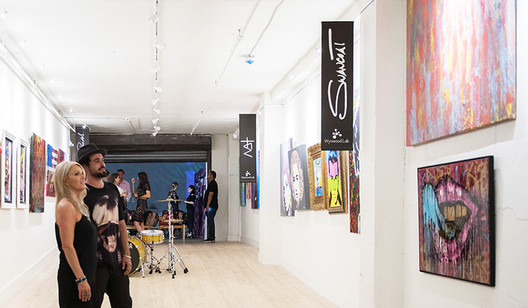 One of the most intriguing new art display spaces in Miami isn't a gallery, museum, school or bistro. Casa Wynwood, which began operating last October in the city's hip Wynwood Arts District, is a unique "lifestyle laboratory" sponsored by ELLE DÉCOR magazine that builds social and business connections among a community of artists, interior designers, architects, high-end home goods manufacturers and the media.
It's a great example of how art exhibits can enhance and elevate almost any working venue, and the invention of Christi and Boyd Tasker, an entrepreneurial couple who run three companies that support Casa Wynwood (PuTTIn' OuT, a digital creative marketing agency specializing in social media content, the Tasker Agency, which is a more traditional print and creative marketing and PR agency, and Tasker International which focuses on international business development for luxury brands and specifiers).
"Casa Wynwood reflects a lot of what we were doing anyway – making connections, bringing together people who can learn from one another," says Christi Tasker. "The goal is for people to be able to come in and find cool solutions – architects and designers can showcase their work and see products from all over the world, manufacturers can find licensees or launch products in a space where high-quality photos and videos can be taken; and best-of-the-best artists can show their work in front of people who can connect them with collectors, museums and curators of all types."
Both the interior and exterior of the 7800-square-foot Casa Wynwood are designed for constant transformation and makeovers, enabling design professionals and contractors to showcase their skills and event planners to implement their wildest ideas. The flexibility extends to the facility's gallery space and interior lifestyle display areas, where Gallery System's Original Gallery System art hanging system (complete with lighting option) has been in place since day one.
"We learned about Gallery System through our general contractor, and have been very impressed with the technology and quality," says Tasker. "We hang a new show about once a month, and can easily take down 25 pieces and put up 25 new ones in less than half a day. The artists love how fast it is, and that they can have so much control over the hanging process - they're like, wow, this is fantastic."
She adds, "while a lot of galleries have to paint and patch when they change shows, we don't even have to grab the first brush or patching material. The walls remain perfect at all times, and there are no worries about sheet rock dust, which tends to find its way everywhere."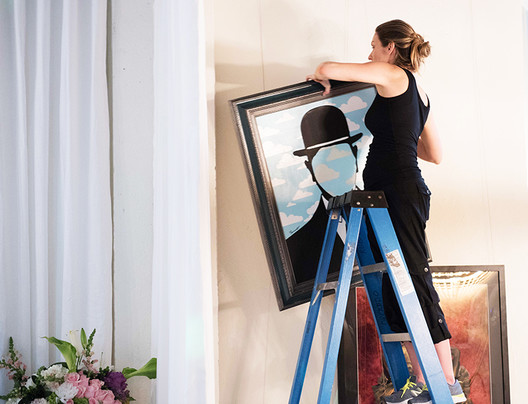 Casa Wynwood has been a busy venue for artists and showings, and is building towards a future as a blue-chip gallery. The calendar has included an opening party tied to the Art Basel Miami Beach festival, a launch event for social services organization Design on a Dime's Housing Works Miami debut, participation in the Maison & Objet Americas design and lifestyle exhibition, and an upcoming series of accredited Continuing Education University (CEU) classes for the American Society of Interior Designers.
"It's been great to work with Casa Wynwood. The Taskers have a very fresh and innovative approach to integrating visual art into a larger business context, and demonstrating its value in creating spaces that are not only enjoyable but also inspirational and productive," commented Debbi Silverman, strategic accounts manager of Gallery System Art Displays. "We applaud their creativity, and can't wait to see where this new enterprise goes."
Want to have your gallery featured in the Gallery System Gallery Spotlight? Send us an email with some background information!