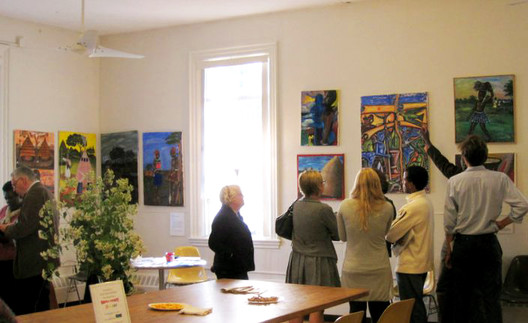 We are so pleased to announce this year's ArtsUp award recipients, who were selected based on their unique and effective approach to encouraging arts in their community. This year's awardees are all dedicated to providing access to the power of creative expression – both for artists and community members.
The Cambridge Community Center, based in Cambridge, MA received our top prize of $1000 worth of Gallery System picture hanging equipment. This 87-year-old non-profit provides a range of services to youth, individuals and families, including the Riverside Gallery – a venue for local and regional artists as well as participants in the Center's arts education programs.
"This is wonderful news for us; the art hanging equipment will be a drastic improvement over our current setup, which relies on nails, tacks and tape," said Darrin Korte, executive director of the Cambridge Community Center. "We hang a new curated show and host a reception every two months, and a hanging system will make that process much easier for everyone involved, while providing a more professional feel for the artists and gallery visitors."
This year's pool of nominees was particularly strong. As such, we have selected two runner-up honorees, each receiving $500 worth of picture hanging system hardware. Recipients include the Village Gallery of Arts, a collaborative organization of artists in Portland, Ore., that has offered education and exhibition programs since 1963, and the Commission on Arts and Culture in Grand Junction, Colo., which seeks to nurture the city's arts community and operates several exhibition spaces that are open to local artists.
The winning programs, which were chosen from nominations submitted via the Gallery System website, will select equipment of their choice from Gallery System's lineup of gallery-quality systems for art display, including the Original Gallery System, which offers optional integrated lighting, and the sleek GalleryOne.